6 tips to help reduce the risk of contracting the novel coronavirus
What is a coronavirus?
Coronaviruses belongs to a large group of viruses which can develop into more serious illnesses. More often than not, these viruses have mild or even zero symptoms, however, they can also be the cause of very serious respiratory conditions.
First identified in China, the novel coronavirus COVID-19 has spread between people very quickly.
Depending on the coronavirus type, most symptoms are similar to a regular flu including fever, coughing, fatigue and shortness of breath. In more severe cases, it can cause  difficulty in breathing, chest pain or pressure. In certain cases, the disease may progress to pneumonia, multi-organ failure, and ultimately death.
Wash your hands often
One of the most efficient ways of reducing the risk, is to wash your hands often and regularly. When done correctly, a thorough hand wash will help remove viruses from your skin. Wash your hands under hot running water, with soap, for not less than 20 seconds. You can also use hand sanitizers, but remember a sanitizer must contain not less than 70% alcohol.
Practice social distancing
Keep at least two metres away from other people, especially with such symptoms as cough, sneezing or flu. Coughing or sneezing causes the spread of microscopic particles which can contain viruses and as a result infect people nearby.
Practice coughing and sneezing etiquette
Always cover your mouth and nose with a tissue or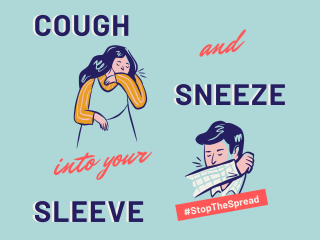 your elbow when coughing or sneezing. Place your used tissue in the waste immediately.  Never cough into your hands or open air as that can spread viruses further.

Practice additional measures of caution
So far there is not enough evidence that regular face masks can be used as an effective measure against the virus. However you can still use it as an additional Personal Protective Equipment when looking after people suspected of having contracted COVID-19 or when coughing or sneezing.
Don't touch your face
At all times 
avoid touching
 your face, especially nose, eyes or mouth. Throughout the day your hands come into contact with many different surfaces which could hold the virus.
Only follow official information and recommendations
Regularly check for the latest updates and developments from reliable sources including government institutions, HSE and World Health Organization. It is vital to only follow official COVID-19 information guidelines.