How Can You Use positive Psychology To Turn You Into A Business Leader
In times of crisis we turn to our leaders for direction and assurances. But the need for positive leadership shouldn't be restricted to times of adversity. The culture of positive psychology is one that businesses should develop and cultivate and shouldn't be left to the global and tech firms. Our SMEs need to start adapting a positive psychology approach to their businesses.
Running your own business, you focus on the administration ensuring your business is profitable and meeting your customers' needs. But are you forgetting to be a leader and overlooking the needs and development of your team?
Positive psychology focuses on human strengths, personal growth, and well-being and is frequently applied to career development and the workplace (Dik, 2019). One of the prominent theories in positive psychology is Dr Seligman's PERMA model.  The PERMA model was developed to help give us a better understanding of well-being.
It stands for
Positive Emotions

Engagement

Relationships

Meaning 

Achievement
Using the PERMA model in the workplace will give you the framework to build positive psychology and well-being into your business and help your team flourish.
So how can it work?
Positive Emotions
As a leader, promoting positive emotions is essential to being an efficient leader. Being a leader, your emotions and attitudes can impact positively or negatively on your team.  Having a positive attitude will give you energy and confidence and this positive mindset will filter down to your team.  A study by (Siebert-Adzic, 2012) shows that positive emotions caused by leadership behaviour have a positive impact on improvements of work-related behaviour (occupational health and safety) and on the improvement of teamwork.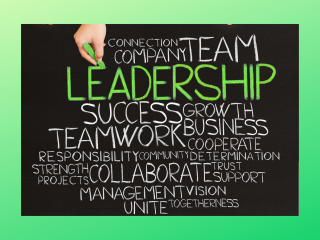 As a leader it is important that you give regular positive feedback. Tell your team when they are doing a good job. Don't wait for a formal end of year review. Verbalise your appreciation for their hard work and dedication.
Engagement 
Identify what each person on your teams strengths are. Focus on developing and accelerating these strengths rather than their weaknesses.
Give tasks fitting to your employees strengths. This produces an experience called 'flow'. Employees who regularly reach a state of flow are often happier and more productive.  Flow can be described as being fully immersed in a task that you are confident, happy and challenged sufficiently that time just flies by.  Understand the environment needed for your team to experience 'flow' more often. 
Relationships
Relationships with managers and other colleagues is a very important motivational factor in the workplace. Speaking to your team regularly and letting them know you value their work helps build and maintain relationships.   According to a recent Gallup paper this means managers can't just give employees feedback about what they did "right" or "wrong."  Managers must listen, ask questions, gain context and create a two-way dialogue (Wigert & Dvorak, 2019).  As a leader it's your job to you to ensure that your team understand the value, they bring to the company.
Meaning
It's important that your employees value and enjoy the work they are doing. Research in positive psychology has demonstrated that aligning work with values, strengths and purpose can lead to increased life satisfaction and well-being (Sanderson, 2017).
As a manager it is important that you take a hands-on approach to developing your team to ensure they find value and purpose in their work. Numerous business surveys suggest that employee satisfaction is based on the company's values and culture. Ensuring your businesses continues to be successful you need to guarantee that as a whole there is value alignment across the organisation.  This will give your team a better understanding of the businesses purpose and will result in increased productivity.
Accomplishment
Setting strong goals in the workplace is important as it can enhance performance and motivate staff. Having a goal can give a sense of purpose, worth and a feeling of value to team members. It is important to remember goals can be short and long term and it is important for people to have a mixture of both so they can see progress.
When working on professional development goals with your team they should align with the aims of the business. In order for the goals to be achievable and attainable they need to come from the employee. A clear understanding of what success looks like for the individual and company is important and the timeframe in which it will be achieved.
Conclusion
Using the PERMA model in the workplace ought to give you the building blocks to engage your employees in a more meaningful way and help them flourish. Everyone wants to live a happier more fulfilling life and using the PERMA model can help your employees work towards a life that has meaning, happier and provides fulfilment.
Positive psychology and the PERMA model can support people to make more knowledgeable choices and encourage them live a more rewarding life.  The model can be used in a variety of personal and business scenarios to enhance people's lives.
Bibliography
Dik, B. J. (2019). Personal Growth and Well-Being at Work: Contributions of Vocational Psychology. Journal of Career Development, 31-47.
Dvorak, B. W. (16, 10 2020). Gallup. Retrieved from Feedback Is Not Enough: https://www.gallup.com/workplace/257582/feedback-not-enough.aspx
Mariana-Pascha. (2020, October 12th ). The PERMA Model: Your Scientific Theory of Happiness. Retrieved from Positive Psychology : https://positivepsychology.com/perma-model/
Pennsylvania, U. o. (2020, October 13 ). PERMA™ THEORY OF WELL-BEING AND PERMA™ WORKSHOPS. Retrieved from University of Pennsylvania: https://ppc.sas.upenn.edu/learn-more/perma-theory-well-being-and-perma-workshops
Sanderson, K. (2017, 8 1). Career Matters: Leveraging Positive Psychology to Guide Us to Good and Right Work. Retrieved from University of Pennsylvania ScholarlyCommons: https://repository.upenn.edu/cgi/viewcontent.cgi?cv=1&article=1125&context=mapp_capstone
Siebert-Adzic, M. (2012). Emotions and leadership. Reasons and impact of emotions in organizational context. IOS Press , 5671-5673.