The Recovery Room - Electric Bed Rental from Care to Comfort
14th June 2019
... Comments
---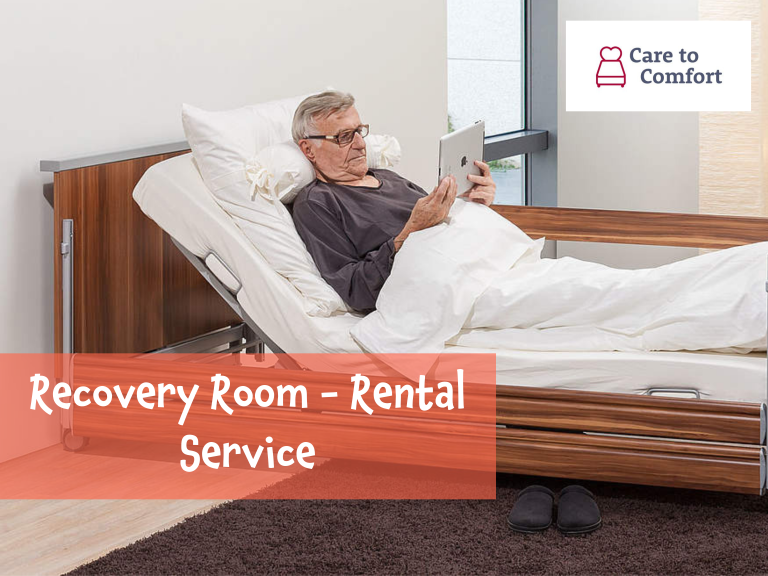 The Recovery Room – Electric Bed Rental Home Care solution from Care to Comfort.
Care to Comfort are a leading supplier of Electric Adjustable Beds, Electric Chairs and healthcare accessories and have recently launched The Recovery Room rental package.
Who can benefit from the Recovery Room?
Individuals who have undergone operations such as Hip and Knee Replacements will experience reduced mobility for a while after being discharged from hospital.  Making preparations at home such as renting an electric adjustable and/or chair will make everyday routines easier and help towards a successful and speedy recovery.
Those recently diagnosed or suffering from Degenerative Nerve diseases, Cancer sufferers and illnesses that restrict or make moving painful can benefit from an electric profiling bed. A bed and some of the accessories available can make life much easier for both the individual and their carer/s.
A rental solution is ideal as an aid for rehabilitation and also allows those with longer term illnesses the opportunity to try out the products before making a decision to buy one.
Whats included:
An attractive care bed with a low-low function (bed goes down to floor level) and also a High-Low function i.e. bed raises up to 36" making it easier to care for the patient. The bed also has a boost function to help the patient up on their feet. (Extra long Care Bed's are available for taller)

3Foot (90cm) Orthopaedic Mattress.(An air mattress is available if required)
Tray Table

Lifting Pole

Bedside light

Full set of bed linen & pillow supplied with the Care to Comfort Electric bed

Lift n'Tilt Recliner Electric Chair with feet raising function
Care to Comfort will set up the Recovery Room in advance of the client's discharge from hospital so everything is in place to ensure a smooth transition.
This package is available for a minimum 4 week period and can be extended thereafter on a weekly basis.
Weekly Cost: €495 per week (excl VAT)
To find out more check out the The Recovery Room or contact Yvonne at Care to Comfort today
Tel:00 353 1 2959000
email: care@caretocomfort.ie
*Please mention you read about Care to Comfort on thebestof Dublin South.*